Bullet proof vests
Wide range of bulletproof and stab-proof vests from Sioen® and Engarde® legally for sale in VBR-shop. Expert in body armor ballistic Undergarment Vest Europe. Discreet or concealed bullet-proof jacket and clothing XS to 5XL class NIJ-3A or 4 or other norms. Buy Pollux, Deluxe, Dual Use, Ambulance, Police, military vests.
How to choose the size for your Bullet proof vest?
.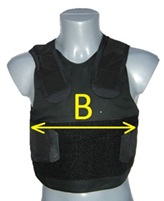 .
Take a deep breath and measure your chest circumference at the height of your diaphragm and divide this dimension by 2
Vb: 110 cm: 2 = 55 cm
Calculate an overlap along the sides of minimum 4 cm = 55 + 4 = 59 cm => XL
This is the most suitable size for a person with normal bodybuilding.
.
One can also take 7 cm overlap than the vest is slightly bigger and slightly longer = 55 + 7 = 62 cm => 2XL
For people who are slightly larger than normal bodybuilding, one can take one size larger. This vest then comes a little longer and lower over the belly.
People who are always standing straight while wearing the vest also generally prefer one size bigger.
Keep in mind, however, that at a too large vest can cause problems when sitting down!
.
Size chart at the center of the diaphragm
.

.
.